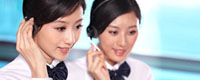 Tel: +86-371-86107816
Fax: +86-371-63797816
E-mail: info@tjcsteel.com
Add: Fortune Plaza, Zhengzhou, Henan, China
Skype: tjccarl



Stainless Steel Section( Stainless Steel Profile) is a kind of strip stainless steel with cross- section shape. According to different shapes for cross- section, it can be divided into stainless steel square bar, stainless steel round bar, stainless steel flat bar, stainless steel angle bar, stainless steel I beam, stainless steel H beam, stainless steel channel bar etc.
The main standard for Stainless Steel section( Stainless Steel Profile) is ASTM A276/ A276M, they are widely used in industrial building and mental structure like pressure vessel, workshop, bridge, ship, vehicle, steel pylons, and other relative equipment parts and tools.
Total: 48
Page: 1 / 1
First
←Previous
Next→
End